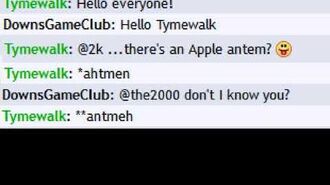 Hello! I'm DoubleDenial, actually the2000. I'm one of the best people here, no questions asked. I wrote a bunch of good pages. I'm cool right? I'm the founder of the "rule" that only TMBG music is allowed on the TBG Forums, unless you're listening to Wolf's Life 3.
My favorite RPG is ULaIF, a.k.a. Fusions & Fandoms.
My favorite TBG character is Apple (The Cat).
My favorite TMBG song is... Err... That's a tricky one. Any of the first three songs on They Got Lost could be it... Err...
Truth in Your Words
On The Drag
Rest Awhile
The end.
Community content is available under
CC-BY-SA
unless otherwise noted.